Award Night
OVERVIEW
Dan Wetzel has been speaking and performing at Upward Award Nights and sponsored events across the country for more than 10 years. In addition, Dan has been invited by Upward to speak at their regional training conferences as well as performing for them at the National Southern Baptist Convention.
We recognize that your church has a wide selection of entertainers and speakers to choose from and we will do everything we can to ensure your objectives are fully met.


WHAT YOUR CHURCH CAN EXPECT
FROM A NIGHT WITH DAN WETZEL
100% professionalism and integrity to the mission of Upward.

Dan will clearly and effectively articulate the Gospel message to your players - and their guests - in a way they will relate to and understand. The Gospel message is always the centerpiece of Dan's presentation, but he tailors it around his astounding skills with the basketball. All your guests of honor will leave knowing that they too can become Champions in the game of LIFE by accepting into their lives the greatest Champion who ever lived… Jesus.

FUN!


FAQ
| | |
| --- | --- |
| 1 | How long is Dan's presentation? |
| | Dan will tailor his presentation to meet the time schedule of your Award Night. However, we have found 30-40 minutes to be appropriate and consistent with most churches. |
| 2 | What financial obligations will our church incur? |
| | Dan's rate is negotiable with the addition of travel expenses (airfare, hotel, meals, etc). A deposit is due with signed Agreement leaving remaining balance due at date of event. Our office will make Dan's travel arrangements and then invoice church upon completion of travel, unless other arrangements are agreed to. |
| 3 | If our church books Dan for two Award Nights, will we get a reduced rate? |
| | Yes! Dan's rate is typically higher for the first event and reduced for each subsequent program to follow that day. |
| 4 | Our budget is very tight -- will Dan stay with a host family? |
| | Dan understands that some churches have limited budgets and will address such concerns on an individual basis. |
| 5 | We've had other basketball 'handlers' before -- what makes Dan different? |
| | First, Dan is a dynamic speaker that will captivate all ages with his timely and powerful delivery of the Gospel. Second, Dan's energy level is second to none and your players will greatly appreciate the intensity for excellence to which he brings. Third, Dan's passion to inspire, equip and empower individuals to follow Christ - and have FUN doing it – is truly unique!! |
| 6 | Will Dan be available for autographs and pictures after the event? |
| | Absolutely! This is an opportunity for Dan to impact the lives of many up close and personal. |
| 7 | Is Dan available to speak in our Sunday worship services or youth meeting? |
| | Absolutely! Many Award Nights take place on Saturday or Sunday evenings, so we strongly suggest that you maximize Dan's ministry to all members of your church family. For more information about this option, please contact our office. |
| 8 | How much space does Dan need on the platform to speak/perform? |
| | Dan is the consummate professional and whatever space you have, he'll work with. Typically a space of approximately 12x12 is plenty of room. As with any presentation, the more space available for Dan the better. He does not use a basketball hoop. |
| 9 | What A/V needs should we have ready for Dan? |
| | Dan prefers to use a cordless microphone and at least one monitor on the platform. He also needs to be able to connect an iPod into the house sound system. |
| 10 | Will Dan sell products or materials after the Award Night? |
| | No. |
Select a video from the list below.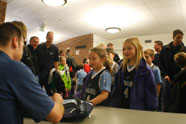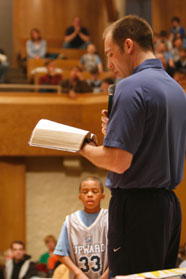 Testimonials
"Dan was very high energy, exciting to watch and easy to listen to as he shared about Christ."
Paul Martin
Community Christian Church
Fort Scott, KS
"The presentation was wonderful at our church and Washington School. The following morning, parents, teachers and children all had positive feedback. Great job! Dan's energy was great and the kids LOVED him!"
Tricia Fenn
First Baptist Church
Greenville, MS
"Dan, your message was very clear and concise and the entertainment was incredible. I would encourage any church or organization to strongly consider working with you to share your message with children and adults."
Brad Bassett
Lake Pointe Church
Rockwall, TX
"Dan's personality really shined through to our kids and their parents. His love for the Lord was evident through his testimony and with the dynamic presentation of his basketball skills. He made quite an impression on all who were in attendence…"
Jon McDugle
Spring Creek Church
Pewaukee, WI